OpenDaylight's Apache Karaf Report
08/04/2016
---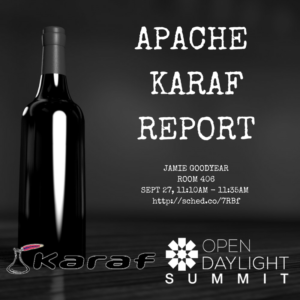 Apache Karaf is at the core of any OpenDaylight system; the architecture and capabilities of Apache Karaf will, in the end, place an upper bound on what OpenDaylight can do as a whole. In this presentation, Savoir Technologies' Jamie Goodyear will review recent events in the Apache Karaf development community, discuss the current state of Apache Karaf and its sub-projects, the challenges it faces, and look forward to how Apache Karaf may address those challenges.
OpenDaylight Summit (http://events.linuxfoundation.org/events/opendaylight-summit) is the industry's flagship event for technical discussions and implementations of open, programmable networks. The summit brings together users, developers and the SDN community to discuss, debate and demonstrate the latest technologies and trends in open SDN. Hear directly from developers about what OpenDaylight is doing to support a range of use cases including NFV and Cloud, Traffic Engineering and New Service Creation, and give the community direct feedback on which features matter most.
Add this session to your ODL Summit schedule: http://sched.co/7RBf
Savoir Technologies Inc® is an industry leader for open source solutions, especially in the SOA and JavaEE space. Companies of all sizes and industries are turning to open source solutions for reliable and cost-effective measures to increase performance, reliability, and flexibility. Savoir brings its staff's experience with committership on many of the Apache services stack projects and lessons learned from being in the trenches with Global 2000 clients.
Jamie Goodyear is an Apache Software Foundation Member, open source evangelist, and computer systems analyst; he has designed, critiqued, and supported architectures for large organizations worldwide. Jamie has worked in systems administration, software quality assurance, and senior software developer roles for businesses from ranging from small start-ups to international corporations. He has attained committer status on Apache Karaf, Servicemix, and Felix, and is a Project Management Committee member on Apache Karaf. He is co-author of Instant OSGi Starter (Packt Publishing, 2013), co-author of Learning Apache Karaf (Packt Publishing, 2013), and co-author of Apache Karaf Cookbook (Packt Publishing, 2014). Currently he divides his time between providing high-level reviews of architectures,mentoring developers and administrators with SOA and SDN deployments, and helping to grow the Apache community.